Recently my wife and I returned to Toronto for our Christmas holidays. Though we haven't lived in Canada for over two years, I remember the cellular plans being outrageously expensive compared to the United States or Europe. Since then, it appears they've gotten slightly better, but only for residents who have long-term contracts. Visitors, sadly, are out of luck.
Both of us own unlocked iPhone 4Ses, so I thought we could just waltz right into a carrier's store, buy a SIM card, plunk down some money and get some data for the week. After all, this is what we did over in the United Kingdom in September. Each of us paid £10 for a SIM and got 1 GB of data. (Actually, they give the SIMs away for free. The £10 was just for usage.)
Astonishingly, there's no such option in Canada. All the plans, even the so-called "prepaid" ones, are designed for long-term-residents. I was told by Virgin and Fido representatives that I'd need a Canadian billing address (!) and the only way to get service for a month would be to sign up and cancel within 30 days. Furthermore, the data rates are outrageous. Here's what Fido is charging for Data Add-ons for a month: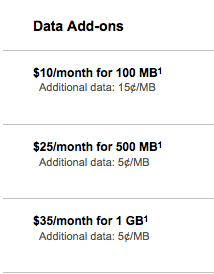 $35 for 1 GB for a month? Are you kidding me? That's almost the price of my entire cellular phone plan in the United States for a month!
As a last resort, I went to talk to a third-party reseller, the ones who represent multiple carriers. I told the rep what I wanted. He laughed, then said, sheepishly, "It's not possible. Canada's cellular phone companies don't have pay-per-use data plans." Then he told me to call Verizon and get a data roaming plan! "It'll be easier that way," he said.
If you want to see how good the pay-as-you-go plans are in the UK — and they really mean pay-as-you-go, as in you don't need a billing address — go check out T-Mobile UK's "SIM Card Only" page. Reading it again made me think: if Canada Post is saving all this money by killing off door-to-door mail delivery, why don't they start a telco that'll give Canada some real competition in cellular services?